Count me as someone who wished Freddy Mercury was still alive. Western media, after days of pretending that Ukraine was holidng on and on the verge of defeating the Russians, they have accepted the fact that that Russia has secured the Lukhansk republic and defeated the Ukrainian forces. Another one bites the dust:
Fresh of their victory over the key stronghold of Sievierodonetsk, Russian forces have claimed victory over its sister city of Lysychansk, which puts Russia in total control of the Luhansk province. Russian Defense Minister Sergei Shoigu affirmed as much in a Sunday statement, while the Ukrainian regional governor of Luhansk, Serhiy Haidai, said the "city is on fire". 

"Sergei Shoigu has informed the commander in chief of the Russian armed forces, Vladimir Putin, of the liberation of the People's Republic of Luhansk [LPR]," the defense ministry said in a statement.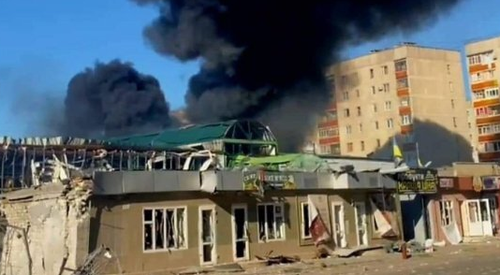 The next step for Russian forces is to secure the the Donetsk Republic. The United States and NATO continue to pour weapons into a rat hole that are being sold on the black market. The fall of Lukansk Republic should be a wake up call to the west, but they are so blinded by their hatred of Russia that they do not realize theY are failing.
The desperation of Ukraine is expressed by shelling civilian areas in Russia, such as Belgorad, which has ZERO military significance. This means that Russia will step up its attacks on targets in Ukraine and will escalate the conflict to the detriment of Ukraine.
The Russian offensive is killing and wounding an enormous number of Ukrainian troops. Ukraine does not have a substantial reserve force that it can throw into the battle to counter the Russian move forward. Western claims that Ukraine is preparing to mount a counter offensive to push the Russian's back is sheer fantasy. Any concentration of Ukrainian forces is being targeted with Russian missiles. Those strikes are decimating Ukraine and western mercenaries trying to mount a counter offensive.
I want to reiterate a point I made in previous postings–Ukraine does not have a trained cadre of troops ready and able to be deployed to the front to staunch the Russian offensive. I believe the Russian plan is to secure the territory of Ukriane up to the river Dneiper. We are already getting indications that Russia is breaking through the defensive line that Ukraine tried to establish at Siversk. If Russia accomplishes this objective, Ukraine will be forced to withdraw its forces to the western banks of the Dnieper or face extermination.